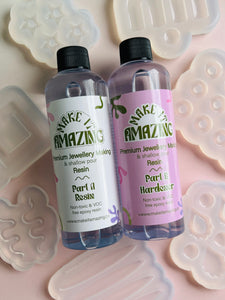 Premium jewellery making and shallow pour epoxy resin.
500ml kit

250ml of part A & 250ml of part B
This resin is especially formulated for jewellery making and shallow pour creations - giving you premium results!
Non yellowing
Bubble eliminating formula 
Supreme shine
Cured in 24hrs de-mould after 12
Instructions on both bottles
Non toxic and VOC free.
You must wear nitrile gloves
Ensure you're working in a well ventilated room
We advise you to wear safety goggles
If you are sanding resin you must wear a respirator 
First aid if contact with eyes/irritation
Call a physician, take contaminated clothing off, rinse skin/eyes with water.